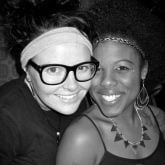 A college student in Nebraska is fighting to keep thousands of dollars in scholarship funds after revelations about her past relationship with another woman resulted in her expulsion from Grace University, a small Bible college in Omaha.
Danielle Powell says that Grace University is demanding she cover over $6,000 in scholarships she received during her undergraduate career. After eight months of being denied a transcript transfer because of the outstanding balance, making it impossible to transfer to another university, Powell has started a Change.org petition to demand that Grace University forgive the debt and allow her to transfer.
"I don't think a lot of people are aware of the fact that you legally can be kicked out of a school in 2013 for being gay," Powell said. "Yes, this is a legal, financial petition, technically speaking, but there's a lot of morals and social justice tied into it that is getting I think some necessary exposure."
After word of Powell's previous relationship with another woman worked its way up to top administrators, the two women were brought to campus to attend a judiciary hearing in which they were questioned separately about their relationship and their remorse. Powell was initially suspended and told she could re-enroll for her final semester if she agreed to a restoration program involving mandatory church attendance, meetings with counselors and mentors, and keeping in touch with a dean. Powell began the program, but was notified later that the administration had decided on expulsion instead. 
Most Bible colleges, including Grace University, require students to sign a statement of faith and conduct when they enroll that usually includes rules against "sexually immoral behavior, including premarital sex, adultery, and homosexual acts."