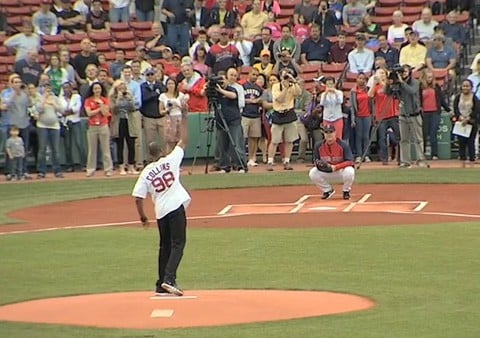 NBA player Jason Collins threw out the first pitch at last night's Red Sox – Texas Rangers matchup, which the Sox won 3-0. It was also Pride night, a fact that irked local hate group MassResistance, as we reported yesterday.
Sports Illustrated reports:
The 7-foot center was greeted with a nice applause when the PA announcer read the opening of the SI article: "I'm a 34-year-old NBA center. I'm black. And I'm gay."
Wearing a Red Sox jersey with the No. 98 on the back, Collins threw out the first pitch to Red Sox manager John Farrell. Before walking to the mound, Collins posed for pictures on the field with fans, who were also being honored for various other achievements, and a few Red Sox employees.
When the PA announcer said, "We welcome this courageous leader," he was also given a nice hand.
Watch, AFTER THE JUMP…