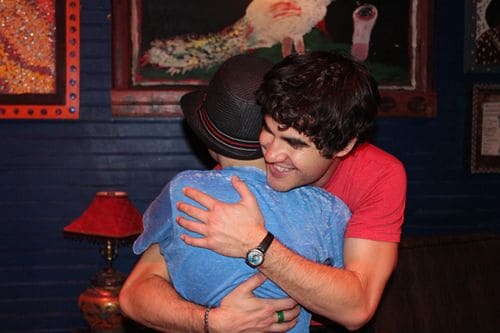 An 8-year-old with a well-documented (by his mother) crush on Darren Criss got to meet his "boyfriend" in Chicago:
Eventually, the time did pass, and we were brought up to meet him. My kiddo was so nervous and anxious that he was practically jumping out of his skin. And then he was there, and my son met his first love. It was adorable. Darren Criss was charming and lovely, and my son was so shy but happy. As for their conversation, that's not really mine to share. Maybe someday, when my kid is older, he'll write about it, but until then, it remains as it should be: between him and Darren.
When it was my turn to talk, I found my normally sure-spoken self decidedly absent. What could I say to this young man who meant so much to my kid, this young man who, by playing a television character, had helped lead my son to tell me about his orientation and, by extension, helped change the trajectory of my own life toward activism? "Thank you" felt so insufficient, but it was all I had.