Defense Secretary Chuck Hagel may attend a DoD Pride event at the Pentagon, which would be the first time a sitting defense secretary has done so, the Washington Blade reports:
On Tuesday, sources told the Washington Blade that Hagel has expressed interest in attending the event to honor LGB service members and LGBT members of the civilian workforce, but he hasn't yet expressed a firm commitment because his schedule at that time isn't yet clear.
Lt. Cmdr. Nathan Christensen, a DOD spokesperson, confirmed that a Pentagon Pride event is set to take place later this month, but offered few details.
"The DoD Pride Organization is in the process of organizing an event at the Pentagon later this month," Christensen said. "No firm date has yet been set. DOD Pride is a private organization which is comprised of DOD civilians and service members whose charter is to represent LGB service members, LGBT civilian employees, contractors, and families throughout the Department of Defense."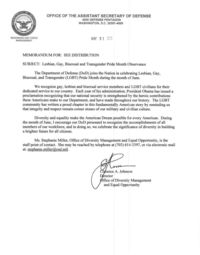 The Department of Defense acknowledged LGBT Pride Month in a memorandum sent out this week (see inset), and was both praised and criticized by military LGBT rights group Outserve-SLDN for what the memo contained:
"It is appropriate and gratifying that Secretary Hagel and his leadership team would follow the historic precedent set last year by then-Secretary Leon Panetta by honoring LGBT Pride Month at the Department of Defense. Acknowledging the accomplishments and contributions of lesbian, gay, and bisexual service members sends an important message all the way down the chain of command: that our military is stronger, and our nation safer, because it includes them," said Robinson.
While acknowledging transgender civilian DOD employees, the memorandum notably omits any mention of the contributions of transgender people in uniform – presumably because transgender people remain barred from service by outdated and obsolete medical regulations. Robinson called out the omission.
"Transgender people have served this nation with pride, honor, and distinction – and continue to do so in the hundreds, if not thousands. It's past time to honor them for their service and sacrifice, and past time to end the discredited and obsolete practice of forcing them to serve in silence and fear," said Robinson.
The issue of transgender people in the military is getting renewed focus as of late. Just this week, Kristin Beck, a former U.S. Navy Seal published a new biography about her gender transition called Warrior Princess. Beck was a member of the elite SEAL Team 6, earned a Purple Heart and a Bronze Star, and served in the unit that killed Osama bin Laden, though retired shortly before that raid.
Just last month, the Department of Defense recognized for the first time officially that transgender veterans have served in a uniformed capacity when they reflected the gender identification of activist and veteran Autumn Sandeen.