BY BOBBY HANKINSON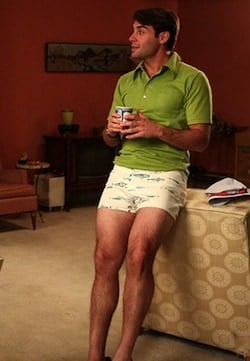 The sixth season of AMC's Mad Men has been steeped in even more mystery than usual. In addition to whatever Don Draper is hiding (we mean his true identity, not what's in his pants), audiences are also debating the likelihood his current wife may share the same fate as murdered actress Sharon Tate.
But the real focus isn't on the Drapers (or even Peggy, Roger or Joan). With the acclaimed series just three episodes from ending its penultimate season, folks are surprisingly obsessed with a character we met only this season. 
The name on everyone's lips is Bob Benson.
The eager accounts man, portrayed by James Wolk (Political Animals, Happy Endings), has captivated Mad Men fanatics. If the notoriously meticulous show's Facebook posts are any indication, they're on the right track. How those suspicions play out, however, is still a topic for debate.
One prevailing theory suggests Benson is secretly a gay man. 
Here's why:
Bloggers Tom and Lorenzo popularized the idea that the lack of heat between Benson and Joan must be attributed to his disinterest in the opposite sex. (Similarly, Benson was equally unmoved when visiting a brothel with Pete Campbell earlier this season.)

Writing for the Star-Ledger, Tom Wright-Piersanti notes how Benson dodges the question "Are you a homo?" in Sunday's episode.

The show is drawing closer to 1969, the year of the Stonewall. Jaime Woo on Huffington Post suggests the show could be positioning Benson as the audience's ambassador into a period of sweeping change, much in the same way they've used Don's secretary Dawn to discuss race.
Other viewers are not convinced.
Some Reddit users believe Benson is working for a government agency. Maybe he's snooping for dirt on Don Draper's past, or maybe he's after intel on one of their clients.

He might be a stand-in for a young Don. Knox McCoy at TV Asylum certainly thinks so. We've had glimpses at Don't early experience, but these parallels allow viewers to see the makings of an ad man.

Then again, this could all be misdirection. Paul Ford for Slate posits the fact that viewers are so disturbed to see a positive, enthusiastic person in this world that they immediately assume some sort of nefarious intent speaks more about us as a viewer than Benson as a character.
What do you think will happen with Bob Benson?
Bobby Hankinson is a Brooklyn-based writer and digital strategist. His days are spent thinking about digital engagement for non-profits, while his nights are spent shimmying to Spotify, reading comic books and watching the best (and, let's be honest, worst) TV has to offer.