GLSEN's executive director Eliza Byard reports: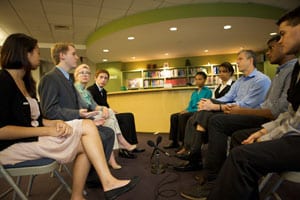 Just a few minutes ago, the Office of Civil Rights at the Department of Education made a groundbreaking announcement – it intends to collect data in schools nationwide about anti-LGBT bullying as part of its Civil Rights Data Collection, an influential survey that is used to inform government action.
I'm proud to say that GLSEN's longtime leadership in Washington urging the government to take action played an integral role in making this change happen…
Byard attributes the change in part to  a trip to D.C. with three GLSEN student leaders to meet Secretary of Education Arne Duncan. She was told at the White House in May on Harvey Milk Day that because one of the students asked Duncan to investigate such data collection, he made the request to the department.
Adds Byard:
LGBT-inclusive data collection may seem like a wonky goal. But let me tell you, data drives decision-making, and what is measured is what is valued when it comes to government action. Liam, one of GLSEN's amazing student leaders, secured a huge advance for LGBT youth nationwide.