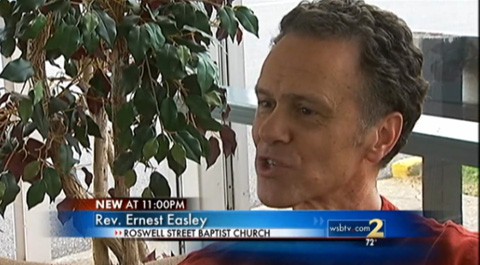 A Marietta, Georgia church kicked out Boy Scouts Troop 204 after the organization said they were accepting gay scouts and Roswell Street Baptist Church Senior Pastor Ernest Easley said he got a standing ovation from his congregation when he made the announcement, WSBTV reports:
Easley said his congregation gave him a standing ovation when he announced his decision to no longer sponsor the troop, which has been meeting at the church for 68 years. He said the stance the Boy Scouts has taken is not only contrary to the word of God, but it puts young people at risk.

"You've got boys in there in a tent that are sexually attractive to other boys, whose hormones are going off the wall. Something is going to happen," Easley said.
Another church, Unity North Atlanta Church in Marietta, has already offered the evicted scout troop a home.
Watch, AFTER THE JUMP…