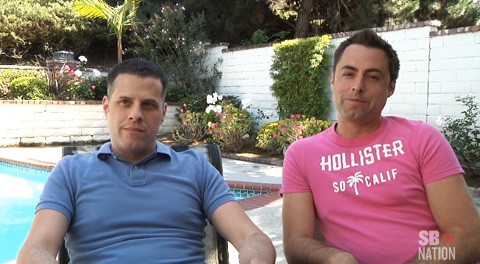 Outsports' Cyd Zeigler sits down with gay pro bowler Scott Norton and his husband Craig Woodward to talk about their marriage, and what the Supreme Court Prop 8 decision might mean to them as residents of southern California.
Norton also made headlines in January when ESPN aired a shot of the couple kissing after Norton beat five-time champ Jason Belmonte at the 2012 PBA Chameleon Championship in Las Vegas in November 2011.
Norton had come out of the closet six months earlier in an article for the Professional Bowlers Association.
Watch Norton and his husband discuss all that, AFTER THE JUMP…