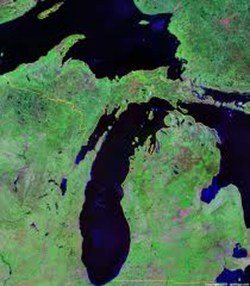 Yesterday a federal judge in Michigan struck down a law signed by Governor Rick Snyder in 2011 that would have prevented domestic partners of state employees from receiving health-care benefits similar to those afforded to heterosexual spouses, the AP reports:
"U.S. District Judge David Lawson said plaintiffs who have lost
benefits or been forced to buy expensive private health insurance have
made a 'plausible claim' that the law violates the Equal Protection
Clause of the U.S. Constitution. The decision came nearly a year after
he heard arguments in the lawsuit, filed by the American Civil Liberties
Union.
'It is hard to argue with a straight face that the primary purpose –
indeed, perhaps the sole purpose – of the statute is other than to deny
health benefits to the same-sex partners of public employees. But that
can never be a legitimate governmental purpose,' Lawson said as he
ordered an injunction."
As the ACLU points out, the ruling out of Michigan is remarkable in that it is the first court decision to cite the Supreme Court's ruling that overturned section 3 of DOMA in Windsor v. United States:
"Judge Lawson recognized, as the Supreme Court did,
that the Constitution forbids the government from passing laws with a
motive to discriminate against gay people. This is the first federal
court decision applying the Supreme Court's reasoning to protect
same-sex couples from discrimination in other contexts."
The ruling comes just days after Michigan lawmakers introduced legislation to repeal the state's ban on same-sex marriage which passed in 2004. The ban is also currently under review by federal judge Bernard Friedman, who in March postponed his ruling on the constitutionality of the ban given the Supreme Court's impending consideration of both Prop. 8 and DOMA. Judge Friedman's ruling is still forthcoming.
UPDATE: BuzzFeed reports that the decision is a temporary injunction, in effect only temporarily halting the ban until the court reaches a final decision. However, in his injunction, Lawson noted that the plaintiffs challenging the ban "are likely to succeed."