Phillip Curtis McKee III, one of the first responders to the Pentagon after the attack on 9/11, died May 31 in Virginia, the Washington Blade reports: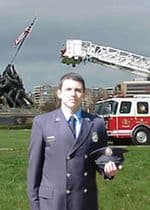 Family members attribute McKee's death to complications from injuries and illness linked to three days of fighting the Pentagon fire following the 9/11 attack, including inhalation of toxic dust, a severe leg injury that resulted in him being wheel chair bound, and a prolonged bout of post-traumatic stress disorder.
McKee's husband and partner of 15 years, Nopadon McKee, said the injuries forced Phillip McKee to retire from his job as a firefighter due to disability. Although he displayed "tremendous courage" in persevering as an artist, businessman, and author over the next 12 years, the injuries and his struggle with PTSD took its toll, Nopadon McKee said.
McKee was 41.