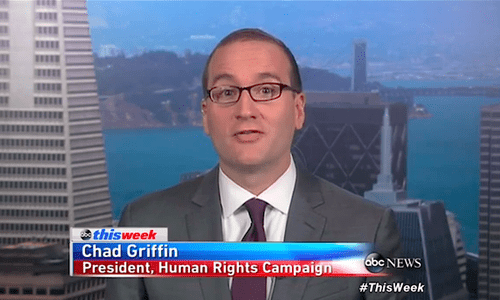 HRC's Chad Griffin and NOM's Brian Brown faced off on This Week to debate the future of gay marriage in light of the recent Supreme Court decisions.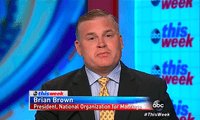 Said Griffin:
"We will fight this battle on all fronts. We'll fight it at the ballot box where there are opportunities. We'll fight it at the state legislature. And ultimately this will come back to our federal courts…I have all expectations that we will [win]. 30 percent of America, thanks to these decisions, now live in states with marriage equality. It's going to be very difficult to deny equal rights to those who live in other states when the next case ultimately reaches the court."
Brown, meanwhile, drew comparison between his move to rollback legal gay marriage wherever it exists and Abraham Lincoln's belief that we "can't have a country half slave and half free."
Check it out, AFTER THE JUMP…