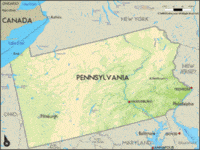 A gay couple in Pennsylvania has come up with an unusual way to get around the state's laws restricting marital benefits to a man and a woman: adoption. Facing the financial and emotional insecurities of old age has led John, 65 to adopt his lifelong partner Gregory, 73. ABC News reports:
'If we just live together and Gregory willed me his assets and property and anything else, I would be liable for a 15 percent tax on the value of the estate," said John. "By adoption, that decreases to 4 percent. It's a huge difference.'
Because John's dad is still alive at 95, he could not legally have two fathers. So Gregory, though older, became the adopted son. The Daughin County Court judge who signed their papers was adamant in telling them that the adoption was "forever" and they would never be able to legally marry. 
"It's humorous to me," John said. "But it provided us with some level of comfort that we have protected each other as much as we can."
While the federal DOMA law was struck down last week by the Supreme Court, this did not extend to the 37 states with their own DOMA legislation. In Pennsylvania, state DOMA law restricts marital benefits to a man and a woman, which forces gay couples to engineer creative strategies to ensure protection for each other to make medical decisions and inherit property after one has passed away. 
Let's all hope that cases like this will soon become a relic of the past.