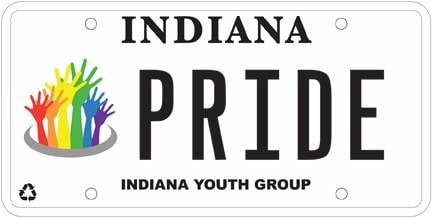 The Indiana Youth Group, an LGBT youth support group, is celebrating a big win after a judge ordered their specialty license plates to be reinstated after they were halted last year for dubious reasons. 
From the IYG press release:
"The revenue generated from license plate sales is crucial for continuing the programs and services offered to the youth served by our organization", [IYG's executive director Mary] Byrne said. In the 10 weeks in 2012 that IYG was able to sell their specialty plate over 800 plates were sold. Plate sales generated over $20,000 during the same period.
IYG is the only not-for-profit agency that is solely dedicated to serving lesbian, gay, bisexual, transgender, and questioning youth in Indianapolis and the only agency with a full-time staff in the state. "The youth we serve often have nowhere else to turn and the money we raise goes directly toward supporting disenfranchised youth and toward putting a stop to needless bullying and violence in our schools," Byrne said.
Sales of the Indiana Youth Group license plate were suspended in March of last year after 20 state legislators signed a letter to the BMV on the last day of the legislative session requesting immediate suspension alleging that IYG and two other organizations were selling the low numbered plates. This was the culmination of over six weeks of the state assembly trying to pass legislation to take the plate away from IYG.
IYG was using the low numbered plates as thank-you gifts associated with different levels of giving, much the same as premiums being offered with different levels of membership by public radio or television during their fundraising drives.
Towleroad has been following the developments in the license plate saga since they were first issued. Before the ban, Micah Clark, executive director of the American Family Association, said, "You have to question what the DMV was thinking when they approved a license plate for a group which recruits teens into the homosexual lifestyle. Since health risks do not seem to matter, what is to prevent a cigar club from now getting a license plate from the DMV? …"
Last month, the BMV abruptly cancelled negotiations with the three organizations citing recent legislation that set up a commission to deliberate on specialty plates.