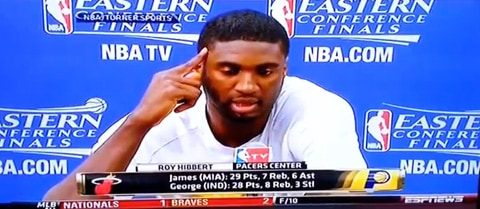 Yesterday, Steve reported on the "no homo" remark made by Indiana Pacers center Roy Hibbert at a post-game press conference. At the time he hadn't been fined by the NBA. Now, he has:
The N.B.A. fined Indiana Pacers center Roy Hibbert $75,000 Sunday, hours after Hibbert apologized for using an antigay slur and an obscenity in a news conference after his team's victory against the Miami Heat in Game 6 of the Eastern Conference finals.
Hibbert apologized for the slur in a statement yesterday, saying I used a slang term that is not appropriate in any setting, private or public, and the language I used definitely has no place in a public forum, especially over live television. I apologize to those who I have offended, to our fans and to the Pacers' organization. I sincerely have deep regret over my choice of words last night."