Supreme Court Justice Antonin Scalia told the North Carolina Bar Association in a speech on Friday that constitutional law is increasingly threatened by a belief in the "judge moralist" and that it is society's, and not the court's job to decide what is morally acceptable, the Charlotte Observer reports: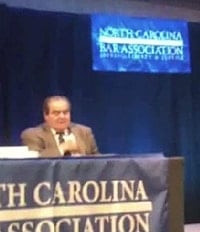 Scalia said that approach presents two problems: Judges are not moral experts, and many of the moral issues now coming before the courts have no "scientifically demonstrable right answer."
…
Scalia, known for his provocative comments and writings since being appointed in 1986, is barred from publicly discussing pending cases. But during his half-hour speech at the Grove Park Inn on Friday, the 77-year-old frequently listed homosexuality among the issues that should be decided by the public and not unelected judges.
His comments during the March oral arguments for the same-sex marriage cases followed a similar bent. "When did it become unconstitutional to exclude homosexual couples from marriage?" he asked.
…
Raleigh attorney John Sarratt said he expects the thoughts Scalia expressed Friday to be reflected in the judge's upcoming opinion on gay marriage – that the courts should leave the existing laws alone.
Scalia was asked if he would have adopted the same approach to Brown v. Board of Education:
Scalia said he would have voted with the majority on the case to create more educational opportunities for blacks. He added, however, that "a good result" doesn't make for good law. Had the courts not interceded, he said, state leaders would have eventually removed the racial barriers.
N.C. lawyers listen as Justice Scalia bemoans 'moral arbiter' on eve of gay marriage ruling [charlotte observer]