Kathleen Wynne, Canada's first out gay premier, will be the first sitting premier to march in Toronto's Gay Pride parade, the Montreal Gazette reports: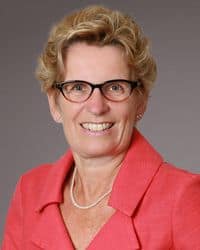 It's important to celebrate Pride week to remind people that gays are still being persecuted in many other countries, added Wynne.
"Unfortunately we still need a Pride celebration because homophobia is alive and well, not just here in some places in Ontario, but in many parts of the world where you can still be imprisoned or beaten for being gay, lesbian or trans," she said.
Wynne said the recent decision by the Boy Scouts of America to allow gay scouts but maintain a ban on gay scout leaders shows society is still struggling with the issue.
"It demonstrates that people still struggling with their own internalized homophobia, and I get that," she said.
"I understand that it's an issue for people, but that's all the more reason that those of us who are so privileged to live in an open society continue to speak out about how important it is not to discriminate against people because of who they are."
Toronto's Gay Pride parade takes place on June 30.