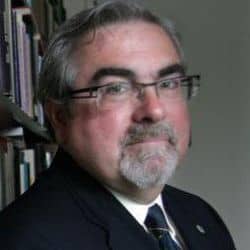 The Evangelical Lutheran Church in America has elected the Rev. Dr. R. Guy Erwin to a six-year term as bishop of Southwest California Synod, which covers the greater Los Angeles area. It is the first time the church has elected an openly gay bishop. 
GLAAD reports: 
This is a significant step for the ELCA, who, until 2009, had banned clergy in same-gender relationships. Prior to 2009, hundreds of gay and lesbian clergy were forced out of congregations or served under secrecy. Hundreds of seminary students were not granted ordination, simply for being gay. Many left the denomination to more welcoming denominations or to join a roster of Lutheran pastors who refused to comply with the policy.
Dr. Erwin is a native of Oklahoma and an active member of the Osage Tribe of Indians. Dr. Erwin also sits on the board of Extraordinary Lutheran Ministries, which expands ministry opportunities for publicly-identified LGBTQ people called to leadership in the Lutheran church as ordained pastors and rostered lay leaders.
"I know that many will see my election as a significant milestone for both LGBT people and Native Americans, and I pray that I can be a positive representation for both communities," said Erwin about his election. "There was a time when I believed that I would not be able to serve as a pastor in the ELCA. Our church has now recognized the God-given gifts and abilities that LGBT people can bring to the denomination."
In 2009 the ELCA voted to allow gay people living in committed relationships to work for the church. Prior to this they had been banned.