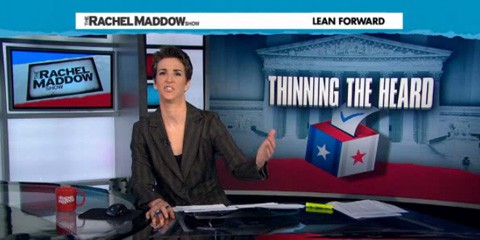 After yesterday's blow to the Voting Rights Act by SCOTUS, Rachel Maddow looked at the chances to save it in Congress, recalling the bill's reauthorization by George W. Bush and the unanimous Senate vote to do so.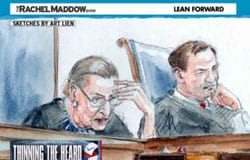 That same year, House Republicans led by Paul Broun attempted to kill the bill but were blocked by Rep. John Lewis.
Asked Maddow:
"So which is it now, Republican party? Are you Paul Broun, stuttering and apologizing and saying you never meant any offense? Taking it back? Or are you Paul Broun introducing a stealth amendment in the middle of the night trying to kill the Voting Rights Act? Are you every single Republican in the United States Senate voting to reauthorize the Voting Rights Act, standing proudly by with your Republican president, as he signs it? Or are you the 33 House Republicans who that same year voted no, voted to kill the Voting Rights Act?"
Later Rep. Lewis joined Rachel to express his sadness at having to fight this all over again.
Watch both clips, AFTER THE JUMP…
Visit NBCNews.com for breaking news, world news, and news about the economy
Visit NBCNews.com for breaking news, world news, and news about the economy