The Supreme Court will issue its rulings on marriage today at 10 am ET. Please join us tomorrow on Towleroad for full coverage of the rulings on Proposition 8 and DOMA.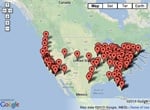 These are the Decision Day rallies happening around the nation. Find one in your community.
Via United for Marriage: Decision Day.
Here are the rallies in California.
Make sure not to miss a Towleroad headline by following @TLRD on Twitter.