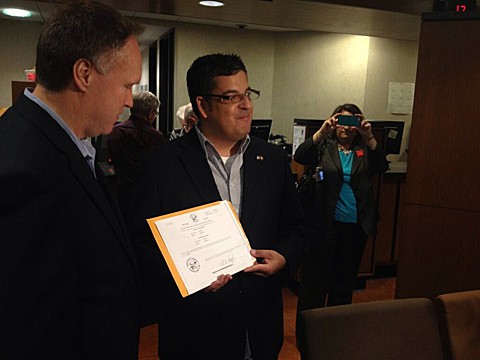 (twitter bryan piatt)
Couples lined up early Thursday morning to receive the first marriage licenses issued to gay couples in Minnesota. They will be able to marry starting August 1.
Bryan Piatt tweets the above photo: "There it is. First same sex marriage license in Minnesota."
The couple is Al Giraud and his partner JEff Isaacoson, who met watching football in a sports bar in Tampa, and have been together for 11 years, MPR News reports:
Isaacson, a banking analyst, said the couple wanted to be the first to apply, after being together for more than a decade.
"It's the commitment between the two of us, and the fact that it not only is going to be recognized by our friends and family, it's now going to be recognized by the state," he said of their motivation. "We won't have to fight for any of the same rights that married couples currently have."
The law legalizing same-sex marriage in Minnesota takes effect on Aug. 1, and officials in Hennepin, Ramsey and Washington counties are taking applications early.
The couple says they'll marry the morning of August 1.