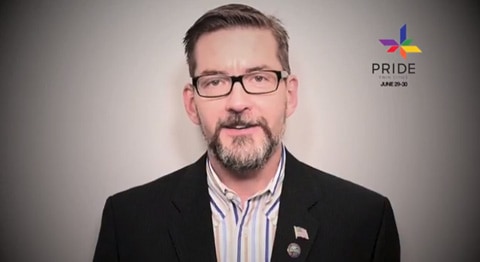 Leaders of the fight for marriage equality in Minnesota appear in a new video for Twin Cities PRIDE as the state celebrates its first LGBT Pride since passage of the new law.
Watch it, AFTER THE JUMP…
In related news, MN United PAC, the political fund formed by gay marriage advocacy group Minnesotans United for All Families, announced its "Minnesota 15″ initiative to assist the pro-equality lawmakers running for reelection in the fall. The group named the first lawmakers to receive their support, Politics Minnesota reports:
Topping that list is DFL Rep. Joe Radinovich, a freshman lawmaker from Crosby who won in GOP-friendly House District 10B by only 323 votes last fall. Radinovich was the subject of a brief recall effort organized by Crow County Republicans over his gay marriage vote. The recall pursuit was recently shot down by the state Supreme Court, but Republicans in the area have vowed to continue their push to oust the first-term lawmaker from office next fall.
DFL Reps. Shannon Savick, Wells, John Persell, Bemidji, Roger Erickson, Baudette, and Tim Faust, Hinckley, round out the first list released by the group.