Indiana Pacers center Roy Hibbert faces a possible fine after he dropped the phrase "no homo" during a post-game press conference yesterday.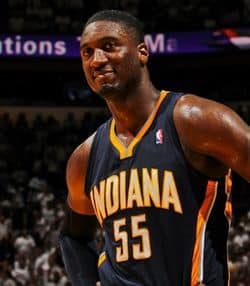 Sports Illustrated reports.
The momentum could have shifted right there if [James] got an easy dunk," Hibbert said. "There was what ‑‑ was it Game 3 here? I really felt that I let Paul down in terms of having his back when LeBron was scoring in the post or getting to the paint, because they stretched me out so much. No homo."

That two-word phrase was popularized by rappers who, according to Slate, used it to "rid [statements] of possible homosexual double-entendre" and, generally speaking, to "acknowledge and distance themselves" from homosexuals.

In the league's official transcript of Hibbert's news conference, which was conducted jointly with George and streamed live on NBA.com, the words were replaced by "(Expletive)."
He also bashed the media in an expletive-laden rant in that same press conference
When Jason Collins came out this past April, Hibbert told the Journal Courier that he was supportive of openly gay players in the NBA: 
"I have no problem with openly gay men. More power to them. We live in a day in age where people are more accepting as opposed to years ago. [Collins] and his family may have some adversity in the coming days and weeks, but I have no problem with it."
Hibbert has not yet issued a response but late last night, tweeted this message to Collins: "Hey can I get a follow. Would like to discuss something's with you."
UPDATE: Hibbert has issued a statement through the Pacers' official website.
I am apologizing for insensitive remarks made during the postgame press conference after our victory over Miami Saturday night. They were disrespectful and offensive and not a reflection of my personal views. I used a slang term that is not appropriate in any setting, private or public, and the language I used definitely has no place in a public forum, especially over live television. I apologize to those who I have offended, to our fans and to the Pacers' organization. I sincerely have deep regret over my choice of words last night.
Watch the moment Hibbert says "no homo" during the press conference, AFTER THE JUMP.