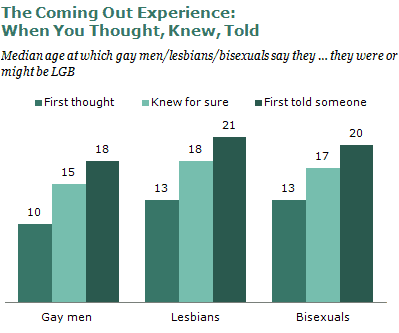 Pew Research has a new, comprehensive survey that looks at the process of coming out – when and how it happens, how difficult it is, and what impact it has on relationships. Pew has also provided an interactive feature where you can filter data based on age, sexual orientation, and how long an individual has been open with their sexuality. 
From Pew: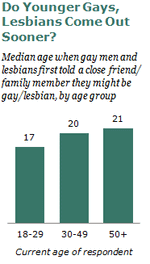 "Among those who have told a friend or family member about their sexual orientation or gender identity, the median age at which they did this was 20. There are modest differences on this measure by age group among gay men and lesbians. The median age at which gay men and lesbians younger than 30 say they first told a close friend or family member is 17. Among those ages 30 to 49, the median age is 20, and for those ages 50 and older, the median age is 21.
These age gaps may be related to the fact that younger adults who may not yet identify themselves as lesbian, gay, bisexual or transgender (but may in the future) would not qualify to be included in the survey. Therefore, by definition, these younger adults could not have waited until they were age 30 or older to tell someone they were gay or lesbian. Even so, these age gaps may reflect the changes that have taken place in society over the past decade or so. As the public has become more accepting of the LGBT population, it may be that gay men and lesbians feel more comfortable sharing their sexual orientation at an earlier age."