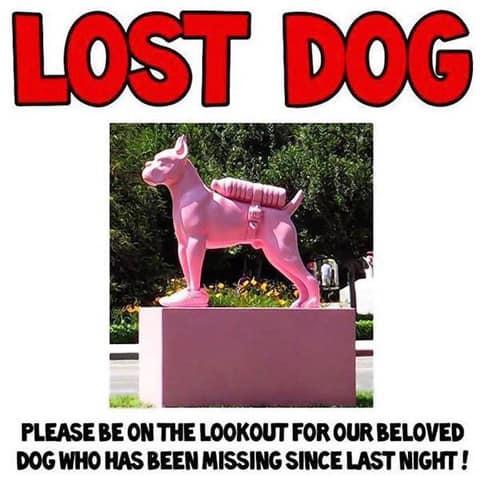 Someone stole a 200-pound statue off Santa Monica Boulevard during L.A.'s Pride celebration, the L.A. Times reports:
Authorities say the bulldog is actually one of six sculptures placed last week in a Santa Monica Boulevard median in advance of last Sunday's gay pride parade. They said the pink pooch was stolen early Monday, perhaps as a prank.
The bulldogs — three pink ones and three red ones — were cast in resin by Belgian artist William Sweetlove. The boulevard installation was scheduled to remain in place through September.
"They're so fun that people might not take them seriously," said Andrew Campbell of the West Hollywood Economic Development Division. "Maybe somebody didn't realize they were stealing artwork."
The statue's 200-pound base was left at the scene of crime, near Barney's Beanery. Los Angeles County sheriff's deputies were expecting to review nearby stores' security tapes in hopes of tracking down the dognappers.
The artist is offering a frog statue worth $1,600 as a reward for information leading to the bulldog.
Watch KTLA's report, AFTER THE JUMP…