A 19-year-old homeless teen says he was raped in a restroom in NYC's Union Square early Thursday morning, A Walk in the Park reports: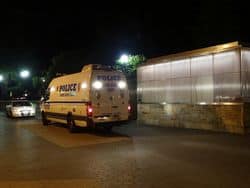 The victim claims the assailant followed him into the male bathroom and attacked him inside a stall according to the police.
The incident occurred on Wednesday evening at approximately 6:30 pm between E. 16/17th Street on the east side of the park near Union Square East. 
According to police the victim said he was "In fear for his safety."
The victim is being treated at Bellevue Hospital according to law enforcement sources.  Police describe the suspect as a white male approximately 25-years-old who was known to the victim from Union Square Park.
The NYPD told Gothamist there is an open investigation but wouldn't comment.