Via GR Reporter, anti-LGBT oppression in Greece against trans people: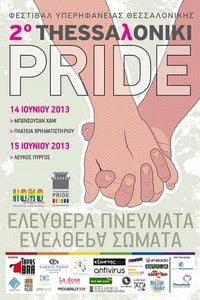 The police in Thessaloniki has been carrying out a series of ungrounded arrests of transgender persons as stated by the Greek Transgender Support Association. "According to written complaints filed by our members who live in Thessaloniki, it is clear that from 30 May 2013 onwards, the police have been carrying out purges and arrests of transgender citizens on a daily basis. The same complaints state that those arrested are being taken to the police headquarters in Thessaloniki in Dimokratia Square, where the victims are waiting for at least three or four hours to be identified under the pretext that the authorities should establish whether the particular person was not a prostitute," reads an address of the non-governmental organization (NGO).
And LGBT people in general:
Late last week, the Metropolitan of the Orthodox Christian Church Antimos openly urged the residents of the northern Greek city not to allow their children to participate in or to promote the gay parade. He described Thessaloniki Pride as an "unholy and unnatural event." Antimos announced that he had received a petition containing nineteen and a half thousand signatures of citizens of Thessaloniki and the surrounding areas, who "strongly and dynamically protest against the outspoken presentation of homosexuals in their city." He said that he was for the repeal of the festival and that he strongly supported the opinion of the discontented.
Thessaloniki is the second largest city in Greece.