Pope Francis met with same-sex marriage opponent Archbishop of Canterbury Justin Welby on Friday and discussed  promoting family values "based on marriage" but avoided the divisive language that his predecessors have used, the AP notes: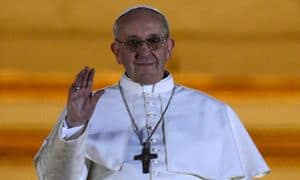 In his remarks to Welby, Francis said he hoped they could collaborate in promoting the sacredness of life "and the stability of families founded on marriage." He noted that Welby had recently spoken out on the issue, a reference to his House of Lords testimony.
Significantly, though, Francis didn't say that marriage should be based on a union between a man and woman, which is how Benedict XVI and John Paul II routinely defined marriage.
Vatican officials said it was a diplomatic attempt to make his point without making a provocative pronouncement. Francis has steered clear of the gay marriage debate as it has recently roiled France and Britain, and in general has refrained from making headline-grabbing comments on hot-button current events.
Did the gay lobby direct him to go easy?