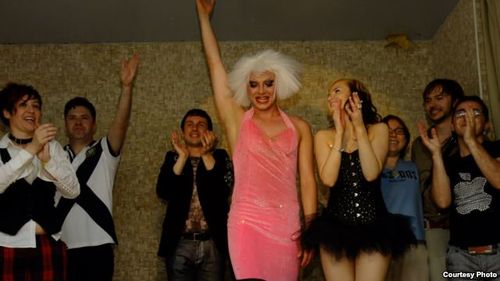 Russia's LGBT community will have its first-ever float in New York City's LGBT Pride parade on June 30, Radio Free Europe reports:
The parade's message has long resonated with Pasha Zalutski (above), a 31-year-old native of Belarus who won the U.S. green-card lottery in the early 2000s. While attending the parade last year that message, carried on the rhythms of dance music, resonated loudly enough to spur him into action.
He and a group of gay and lesbian friends, all from the former Soviet Union, decided to do something that he says would be "impossible" back home. A year later, they are scrambling to collect the money and finish preparations for what will be the parade's first-ever Russian and ex-Soviet float.
The float has its own website, where it is seeking donations, ideas, and suggestions for the design.
Said Zalutski: "Of course I wish I could tell you that we're going to have this fabulous theme [and] a statue of Lenin dressed up as a drag queen! No, we're not having that. Due to budget constraints we're keeping it rather modest. Our motivation is to truly celebrate our freedom here. We are not in it to try to transmit some very crafted message outside of the United States."