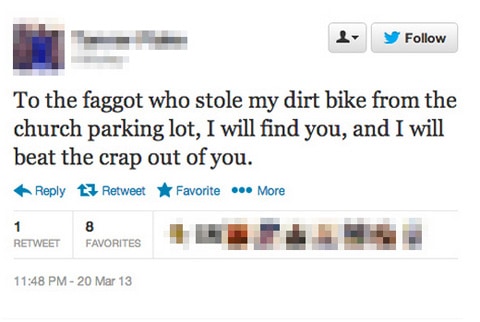 Senator Jeff Flake (R-AZ) apologized today after offensive statements on his teenage son's social media accounts were uncovered by Buzzfeed.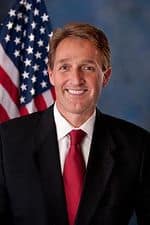 Sen. Jeff Flake's high school-aged son Tanner used twitter to threaten the "faggot" who stole his bike that he "will find you, and … will beat the crap out of you," joked about an acquaintance stealing one-liners because he's Jewish, and went by the name "n1ggerkiller" in an online game.
Another message said "I'm down to own some faggots."
Said Flake to Buzzfeed:
"I'm very disappointed in my teenage son's words, and I sincerely apologize for the insensitivity. This language is unacceptable, anywhere. Needless to say, I've already spoken with him about this, he has apologized, and I apologize as well."
Flake's son's YouTube comments contain the same slurs, and also "called Mexicans the 'scum of the Earth' and on several occasions bragged that his father is a member of Congress.
Update: a reader sends in a sampling of Tanner Flake's comments from YouTube.
"you faggot retard pussy piece of crap i hope you die in a hole slowly and painfully"
"you gay fag ni**er go shoot yourself because no body likes you"
"Mexicans are the scum of the earth."
"Then some ni**er started rapping and I looked at her album art and saw that it was Flo Rida."
"IT'S THE NI**ER FAMILY!!!!"
"Stupid little ni**er"
"go die in a hole you stupid ni**er"
"The black guy always fails first…"
"Yes, because one white dude goes nuts. No. Black people do crap like this all of the time."
"When he called himself a cheap jew i loled hard"