Following the resignation of Tom Donilon as national security advisor, Susan Rice is set to step in, NBC News reports: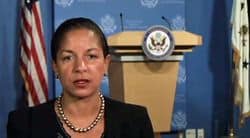 Rice, currently the U.S. Ambassador to the United Nations, will be formally introduced in her new role by President Barack Obama at 2 p.m. ET. A White House official says Samantha Power, a former special assistant to the president on the National Security Council, will be nominated to replace Susan Rice as the U.N. ambassador.
The changes are a significant reshuffle of the White House foreign policy team.
Rice has been at the center of a storm over the early accounts of the attacks on the U.S. Consulate in Benghazi, Libya, which later proved to be incorrect.
While her nomination could draw fire from Republicans on Capitol Hill, the national security adviser position is not subject to Senate confirmation.