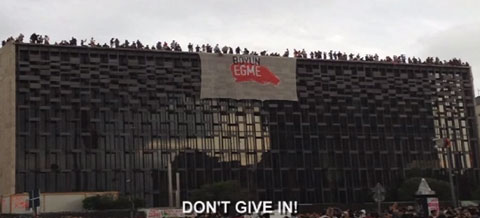 IF you haven't been following the demonstrations in Turkey, or are aware of the uprising against the government underway at the moment but not in on some of the details, here's a great video that will get you caught up.
Watch, AFTER THE JUMP…
The resistance against Erdogan's government are some of the largest demonstrations in years, and have brought together many of Istanbul's minority groups, including LGBTs.
Resting in the shade of a tree next to a stand manned by the LGBT activists of Lambda Istanbul, 29-year-old consultant Onur Aygünes said that for the first time he felt as if there was real momentum behind a larger political movement: "My friends and I felt increasingly oppressed in Turkey, but this is very inspiring. Most of the people here have never been politically active."
Aygünes, who has participated in rallies such as the Istanbul Gay Pride or Mayday demonstrations, believes the excessive police violence used in the square was counter-productive, bringing more and more people onto the streets, rather than deterring them. "I  have been teargassed for the first time here, and all it did was to make me more determined."