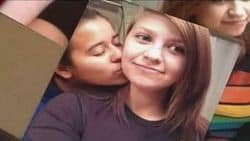 A year ago we reported on Kristine Chapa, the Texas teen who was shot by a gunman in the head in a public park along with her girlfriend Mollie Olgin, who was sadly killed in the shooting. In the year since the brutal attack, Chapa has made a heroic recovery and is dealing with the reality of moving forward in life without her girlfriend by her side. NBC News reports:
Since those tough early days, Chapa has spent months battling to relearn some of the most basic functions of life: balancing, speaking without a stutter, making facial expressions, as well as sitting, standing and walking.
"I went from being independent to back to a toddler," she said.
Chapa eventually graduated from a recliner to a wheelchair to a cane as she took her first steps in Austin, where she spent nearly four months in rehabilitation. She can walk, but she has a limp. 
And while the physical recovery has been nearly all-consuming for Chapa, she has also had to grapple with the reality of her girlfriends death.
She grieves for Olgin, and laments that they fought that night over Olgin wanting to meet her parents. Chapa wasn't ready yet: she hadn't told her parents she was a lesbian – a fact they learned when the police informed them of the attack, and said their daughter had been with her girlfriend.
"Every day I think about her," Chapa said of Olgin. "I pray for her, just for her to watch over me."
Chapa has also reached out to other victims of tragedies or their families, penning notes to a track star paralyzed in an accident as well as to the aunt of a girl who died in the Newtown school shooting.
"I opened up myself to them and just told them how my story is similar, I just put my feelings in there," she said, adding that she wants "to meet more victims who have been shot because we relate. I'm pretty sure we've been through a lot of the same things and have felt the same ways."
Moving forward, Chapa is looking to begin college and awaits the arrest of her attacker, who is still at large. Police don't believe the attack was a hate crime, but have yet to establish a clear motive. Potential suspects are being investigated at this time. 
A donation page to help Chapa's family in paying for medical expenses has been set up here.