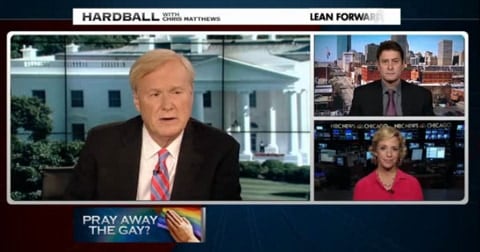 On Friday's Hardball, Chris Matthews welcomed Truth Wins Out's Wayne Besen and psychotherapist Dr. Laura Berman to discuss this week's news that Alan Chambers was shutting down the leading "ex-gay" organization Exodus International.
Besen and Berman discuss what a harmful sham these organizations are.
Asks Matthews: "The country I grew up in is very different than the one I live in now. The words like 'queer' thrown around 20-30 years ago – today somebody who's gay might say it sometimes for sort of campy reasons. Today, I think it's gone beyond tolerance to acceptance, not quite the celebration yet but certainly full understanding and acceptance in a positive way. What do you think the difference is for the young person today who at the age of 12 or 13 says, 'you know what, I think I'm that way.' How's it different? I want some hope here. I hope there is some."
Watch, AFTER THE JUMP…
Visit NBCNews.com for breaking news, world news, and news about the economy