Air Force Secretary Michael Donley retired as Air Force Secretary on Friday, and because Obama has not yet named a replacement, Under Secretary Eric Fanning, a gay man, is currently in charge, the Air Force Times reports: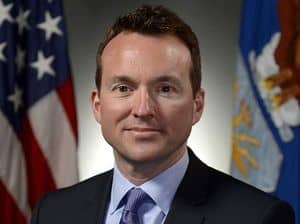 Fanning previously served as deputy under secretary of the Navy and deputy director of the Commission on the Prevention of Weapons of Mass Destruction Proliferation and Terrorism before becoming under secretary of the Air Force on April 29.
…
Fanning, who is openly gay, takes over at the Air Force just as the Supreme Court is set to rule on the Defense of Marriage Act, which blocks same-sex couples from receiving the same benefits as heterosexual couples. He told the Washington Blade in a recent interview that he hopes the Defense Department will adopt a non-discrimination policy to protect gay and lesbian service members.
"Speaking personally, I always think it's important to have non-discrimination policies codified to include everyone," Fanning said in the interview. "The military, because it has a chain of command, has a different attitude about this and a different way to try to go about protecting airmen, sailors, soldiers, Marines — but Eric Fanning? Yes. I personally like to see these things in writing and codified."