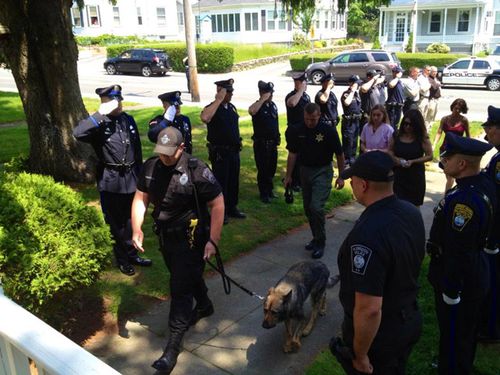 PHOTO OF THE DAY: Officers pay honor on a K-9 dog's last walk.  
BY SAM GREISMAN
A look back at today's top stories
GAY NEWS
A day after being ridiculed for his thoughtless remarks following the his team's Game 6 win, Indiana Pacers center Roy Hibbert has has been fined by the NBA for using the phrase "no homo" during his post-game press conference. Openly gay soccer player Robbie Rogers sat down with CBS This Morning to talk about his coming out and the future of gay men in professional sports. Outspoken gay rights activist and Oakland Raiders punter Chris Kluwe is unable to attend the pride festivities at the White House this year but his email response is pretty entertaining. 
Today is the opening day in the long delayed trial of Wikileaks soldier Bradley Manning, and following a surge of anti-gay attacks in the city, New York City officials are offering self-defense classes for members of the LGBT community. 
**
ENTERTAINMENT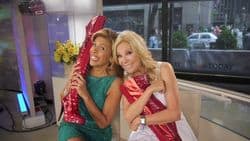 It's the 30th Anniversary of Cyndi Lauper's megahit "Girls Just Wanna Have Fun" and the cast and crew of Lauper's Kinky Boots got some of the singer's friends to help her celebrate. Miley Cyrus's new single is described as a "minimalist R&B party anthem", I don't really know what that is supposed to mean but listen to it here. The Pet Shop Boys also have a new single out and Will Hopkins is looking to break some ground for gays in the country music scene. 
**
WINGNUTTERY
There was another grisly anti-gay attack over the weekend, this time in Hollywood where a gay and trans man was brutally assaulted. It didn't take long for the sad ladies over at One Million Moms to get all flustered about the new superhero SheZow. Also a disgusting Facebook game in which the user gets to attack gay activists has hit the interwebs. 
**
VIDEOS OF THE DAY
Bill Maher has already lined up the next big civil rights issue after gay marriage and it's weed. Also Russian tennis player Mikail Youzhny gave hope to all frustrated club tennis players when he completely melted down at the French Open today.