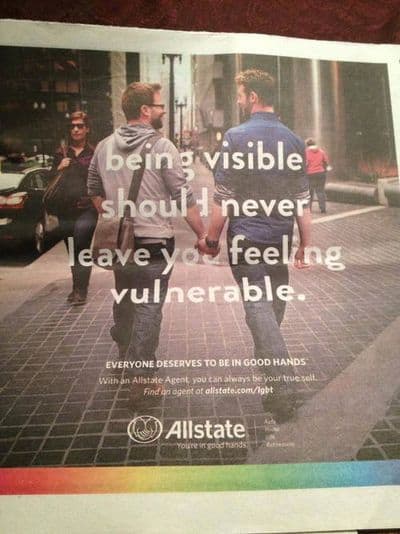 PHOTO OF THE DAY: Allstate stands up for the gays.  
BY SAM GREISMAN
A look back at today's top stories
ENTERTAINMENT
It was Broadway's big night last night as the 67th Tony Awards were held at Radio City Music Hall. Check out a list of all the winners here. Kinky Boots was the big winner while Vanya and Sonia and Masha and Spike took home top honors on the play side of things. A visibly moved Cyndi Lauper may have been the darling of the night as she became the first woman to win "Best Score" for a musical.  The night started off with a bang as host Neil Patrick Harris brought the house down with an inspired opening number. Why can't this guy host the Oscars? Take a look at at all the numbers from a very musical and gay night in New York.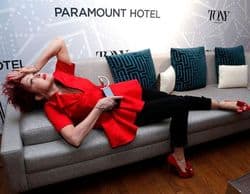 While the gays were focused on the Tonys it seems that a secret about Mad Men's mysterious Bob Benson was finally revealed (MAJOR SPOILER ALERT!!). Hillary Clinton has started what promises to be an epic Twitter profile thanks to the gay "Texts from Hillary" folks. Sad news for Jane Lynch who has announced that she and her wife are splitting up and check out the first trailer for an HBO documentary that examines the lives of some prominent LGBT individuals. 
**
GAY ISSUES
The hidden camera show What Would You Do? takes a look at if people will stand up for a transgender teen who is being bullied by her father and the results will please you. There was a very disturbing incident earlier this month in Brooklyn where the NYPD was caught on camera violently arresting one gay man and assaulting two others. An investigation is in the offing. 
MSNBC's Melissa Harris-Perry had a round-table discussion this weekend with some LGBT activists about the heckling Michelle Obama dealt with last week. Also rest-in-peace to the gay firefighter who was one of the first responders to the Pentagon on 9/11. His family says his death was caused by complications from the response. 
**
VIDEOS OF THE DAY
Edward Snowden has come out of the woodwork and revealed himself as the person who leaked the information about the NSA surveillance. In a video released yesterday he says that he is fearful for his loved ones. And NBA players get the mean tweet treatment on Jimmy Kimmel.