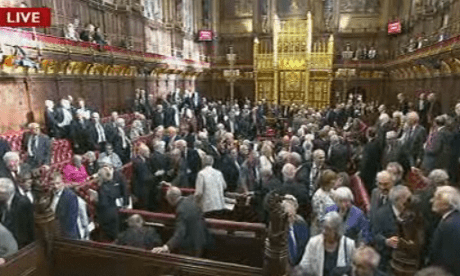 UK's House of Lords has approved the marriage equality bill in a voice vote and rejected the "wrecking amendment" by a wide margin in a 390-148 vote, the Guardian reports.
Peers have voted by a majority of 242 to allow the gay marriage bill to continue its passage through the Lords. Although victory for the pro-bill lobby was never seriously in doubt, the size of their win took some peers by surprise. The Lords voted by 390 votes to 148 to reject an attempt by Lord Dear, a crossbencher, to defeat the bill at second reading. It is very unusual for the Lords to block a bill at second reading and some peers may have been voting against Dear because they were opposed to the idea of the Lords trying to obstruct legislation in this way, not because they were great supporters of the bill. But the size of the majority means the bill must now be certain to become law. However, it is still likely that attempts will be made to amend it in the Lords, in particular to strengthen the protection available to churches who do not want to conduct gay weddings. Lady Stowell, a government whip, told peers in her wind-up speech that the government would not necessarily object to amendments of this kind.
The bill moves to its next stage of consideration, the Committee stage.