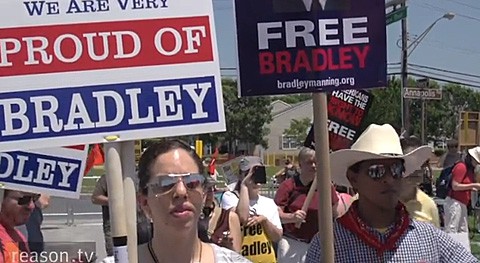 The Bradley Manning trial enters its second day today. It is expected to run all summer.
The AP reports on the first day:
The soldier from Crescent, Okla., has said he did not believe the information would harm the U.S. and he released the information to enlighten the public about the bitter reality of America's wars.
…His attorney has also said Manning struggled privately with gender identity early in his tour of duty, when gays couldn't openly serve in the military. Those struggles led Manning to "feel that he needed to do something to make a difference in this world," Coombs said.
[Adrian Lamo, a convicted hacker] testified Manning had contacted him because of his notoriety in the hacking community and because of his open support and leadership in the lesbian, gay, bisexual and transgender community.
Watch a clip from Reason TV on the protests in support of Bradley Manning, AFTER THE JUMP…