The Phi Delta Theta fraternity at the University of Chicago is under investigation after a postal carrier exposed a racist, homophobic prank that it had played on him, the Sun-Times reports: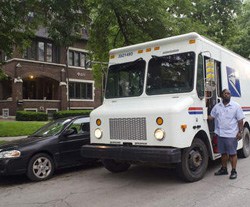 "About a week after Memorial Day, I had an order to bring 79 of the boxes. I came to the address and explained to the frat member that I would have a lot more supplies. I went back to the truck for the boxes about six or seven times," Becton said.
"After the last trip, one of the frat guys came out and said it was a practical joke. Another guy said that I should read the name backwards and I'll get the joke."
The items — all 79 of them — were addressed to "Reggin Toggaf." Written backward, the first name is a racial slur. The last name is a slur for gay men.
The fraternity's mail delivery has been suspended during the investigation by the Postal Inspection Service, which wants to insure that the carrier feels safe to deliver the mail.
Mack Julion, president of the National Association of Letter Carriers, Branch 11, spoke with the frat house's former president, who blew off the seriousness of the incident:
"Their contention was it was a practical joke, but
we don't think it was funny, the letter carrier doesn't think it was
funny, and it doesn't reflect well on the university," Julion told me.
Julion said the fraternity told him the "joke" was being played on them and was not meant to offend Becton.
"But if it was a practical joke from one frat to
another and not to the letter carrier, it is still not funny. Is this
the way you tease each other?" Julion said he asked. "Is this standard
protocol in terms of practical jokes? Is this the way they go back and
forth, because it is not acceptable."