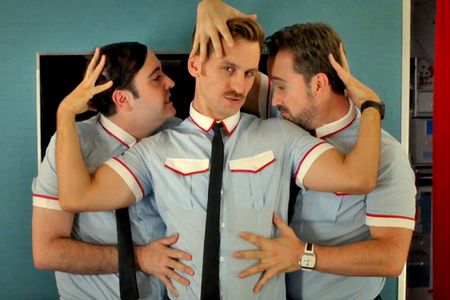 meet our friendly eager crew-ewww ♫ They only live to service you-ooo 
Here's a film you'll never see on an airplane. Pedro Almodóvar's latest, I'M SO EXCITED!, takes place (almost) entirely aboard an airplane like some lost "bottle episode" of an aborted Almodóvarian sitcom. But the stewards and pilots are less concerned with fastening your seat belt than unzipping your pants and more interested in spiking drinks than pouring them. It's arrived just in time for Gay Pride Weekend and what great timing; this is by far the gayest thing Pedro has done since Bad Education (2004) in which Gael García Bernal famously both tucked his junk for drag duties and showed it off in wet underwear poolside.
I think it was the internet critic David Poland (of Movie City News fame) who dubbed that earlier film "fag noir" and took some heat for that but I personally don't think Almodóvar would have minded. In fact, for a long time I miscredited the tag to Pedro himself. Pedro's characters are often outrageously hedonistic from nympho nuns to homicidal hotties to transgendered hookers and even the sanest among them act on melodramatic or comic impulse without shame or apology. In short, to appropriate a quote from Rich Juzwiak they're 'as faggy as they want to be'. And that's just the ladies!
I bring up this divisive language because Almodóvar, despite his celebrated global rise as a world class auteur — those Oscar wins for All About My Mother (1999's Best Foreign-Language Film) and Talk To Her (2002's Best Original Screenplay) in the early Aughts marked his peak – has never and will never win fans among the easily offended or anyone who flinches at the queeniest moments in gay pride parades. 
MORE AFTER THE JUMP…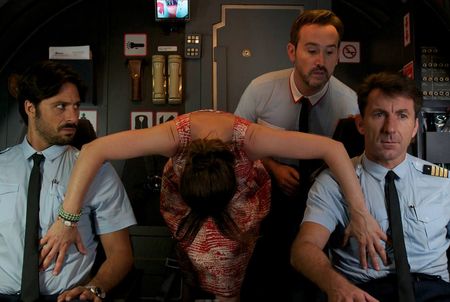 But for the rest of us his consistently stunning filmography (so many classics from Law of Desire through Volver) makes each new film a "Must-See". Yes, even a quickie toss-off like this one. I'm So Excited is on the surface a comedy about a very negligent horny flight crew and a secretive batch of first class passengers but it's also a satirical riff on Spain's economic crisis. Political satire is a difficult genre when it comes to subtitles so this is unlikely to please everyone. Still, it's Pedro's first straight (not in the heterosexual sense) comedy since, well, forever and that has to be noted even if it feels inevitable since Broken Embraces (2009) was, at least in part, the story of a blinded director trying to make a comedy that looked suspiciously like Women on the Verge of a Breakdown (1988), Pedro's international breakthrough. Pedro may have have entered a weirdly self-referential holding pattern in his career but if so he's earned the right.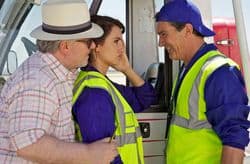 Though I'd love for EVERYONE to see it (someone's gotta support the true artists of cinema or everything but superheroes will one day be VOD only) I'm So Excited! will, in the end, probably be regarded as little more than a curio throwback to the director's outrageous early days. The critics screening I attended was mysteriously quiet but critics are difficult to read at comedies (were they LOLing without the OL part?) and comedies are ALWAYS funnier with a full paying crowd. Don't get "So Excited!" for Pedro's most famous muses Penélope Cruz & Antonio Banderas who only have cameos (for their 5th and 7th Pedro film, respectively) but do prepare yourself for the titular song. The airline stewards do a choreographed routine. In full and in full fabulousity from first 80s synthpop beats to the "look what you do to me" repeat fadeout.
THE HEAT
If your taste in shamelessly outrageous comedy runs more mainstream or if you just need 27 more minutes of air-conditioning (why are American comedies so f'in long?) the big ticket this weekend is THE HEAT starring Sandra Bullock and Melissa McCarthy. Bullock plays a very smug and uptight FBI agent and McCarthy plays a loose cannon cop who'll catch her criminals by any means necessary. It's hate at first sight but they learn to work together. If that description screams 'Every Odd Couple Buddy Cop Comedy Ever!,' than you already know if you could handle seeing another, only with funny ladies and spanks jokes this time.
In its own way its as offensive as I'm So Excited (one ongoing joke involves a dealer who thinks McCarthy is racist and she takes him down with… no, I can't even type it!) and though it's a fast fade there are quite a few laughs, most of them courtesy of what feels like The Melissa & Sandy Improv Hour. The film is directed by Paul Feig who held the reigns on Bridesmaids and though this one isn't fit to stand in that wedding party, it's ratio of minutes to laughs is fairly good and McCarthy really brings it. At the very least it's a thousand times funnier than McCarthy's weirdly joke-free Identity Thief which was an inexplicable blockbuster earlier this year. I'd warn you to stay through the credits for the funny punchline to an ongoing Sandra is a Crazy Cat Lady joke but the film is too nervous that you'll be running out already and only lets a couple credits fly before selling it.
Nathaniel Rogers would live in the movie theater but for the poor internet reception. He blogs daily at the Film Experience. Follow him on Twitter @nathanielr.