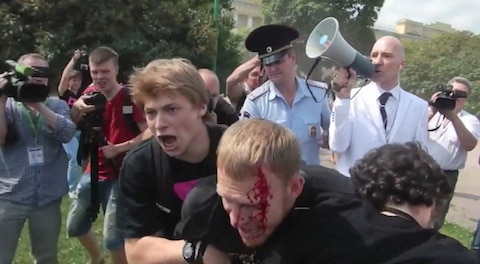 Dozens were arrested at a gay rights rally in St. Petersburg, Russia today.
Check out a stunning video of the clash, AFTER THE JUMP…
Officials in St. Petersburg deemed that the rally, which took place in a space designated for public demonstrations, violated the law. The statute essentially prohibits public displays of homosexuality, as well as talking about it to children.
About 200 nationalists also gathered at the rally, chanting slogans such as "Sodomy will not pass," and throwing eggs and rocks at the gay-rights activists, who numbered about 40.
The state-run Itar-TASS news agency quoted an unnamed police official as saying police arrested dozens of people, including eight nationalists.
RIA Novosti adds:
The Russian LGBT network said on its Facebook page Saturday that several activists were beaten up by their opponents during the event, and more than 50 were held by the police. Eight of the anti-gay activists were detained as well, the police said. One of the police officers was injured while trying to detain an anti-gay activist, local Fonatanka.Ru news website reported.
The Field of Mars is the city's "Hyde Park" where demonstrations are allowed without special sanctions.
Check out a stunning video of the clash, AFTER THE JUMP…