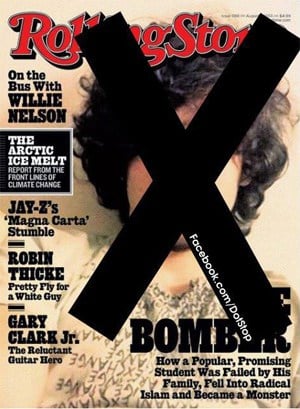 Rolling Stone is facing huge backlash over its decision to feature Boston Marathon bombing suspect Dzhokhar Tsarvaev on its August 2013 cover, the NY Daily News reports:
Boldly labeled "The Bomber," the teenaged Boston Marathon bombing suspect's portrait is splashed across the upcoming issue's cover, usually reserved for rock stars and celebrities.
Tens of thousands have now vowed to boycott the magazine on a related Facebook page since the magazine debuted their controversial cover with many calling its decision "shameful," "sickening" and "glorifying" of an accused killer and terrorist.
More than 11,000 have additionally stormed the magazine's direct Facebook page with angry comments and hundreds of others have slammed a related article on the magazine's website — some vowing to cancel their subscriptions.
The Facebook page calling for a boycott currently has more than 50,000 supporters.
Stores everywhere are dropping the issue, Boston Magazine reports:
On Wednesday afternoon, as the outrage continued to swirl on social media, the owners of Tedeschi's posted a statement and the above photo, indicating that they would not be placing the issue on their store shelves because they didn't want to shed light on Tsarnaev, and call attention to his actions based on his portrayal on the cover. "Tedeschi Food Shops supports the need to share the news with everyone, but cannot support actions that serve to glorify the evil actions of anyone. With that being said, we will not be carrying this issue of Rolling Stone. Music and terrorism don't mix," the company said in a statement on their Facebook page.
Similarly, CVS chains will also hold off from promoting the Tsarnaev cover. In a statement from the company, representatives said they couldn't support Rolling Stone. "CVS/pharmacy has decided not to sell the current issue of Rolling Stone featuring a cover photo of the Boston Marathon bombing suspect. As a company with deep roots in New England and a strong presence in Boston, we believe this is the right decision out of respect for the victims of the attack and their loved ones."