In addition to action in Pennsylvania, Virginia, and Illinois today, the ACLU and the ACLU of North Carolina Legal Foundation (ACLU-NCLF) announced plans to take on North Carolina's same-sex marriage ban: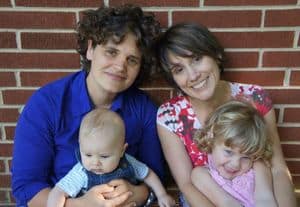 The ACLU is asking North Carolina Attorney General Roy Cooper to agree to allow an additional claim challenging the state's ban on marriage for same-sex couples to be added to Fisher-Borne v. Smith, a lawsuit filed last year in Greensboro in the U.S. District Court for the Middle District of North Carolina that challenges the state's ban on second parent adoption, a process by which one partner in an unmarried gay or straight couple adopts the other partner's biological or adoptive child. If the Attorney General's office does not agree to the addition of the new claim, the ACLU will petition the court to allow the claim to be added.
Marcie and Chantelle Fisher-Borne (pictured), one of the couples in the case, have been together for 16 years and live in Durham. Each woman carried one of their two children — a 5-year-old girl and a 1-year-old boy. They had a wedding in North Carolina 10 years ago and were legally married in Washington, D.C. in 2011, but their marriage is not recognized by North Carolina law. When their daughter was born, the couple met resistance from a hospital staff member who demanded their legal paperwork. If they were legally married in North Carolina, their family would be respected and such encounters could be avoided.
More information on the families in the Fisher-Borne v. Smith case can be found here.