Conservative View co-host Elisabeth Hasselbeck is leaving to join her ilk at FOX and Friends, the NY Post reports: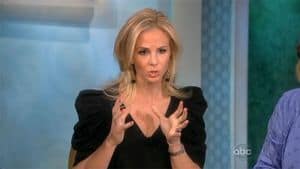 After much speculation, conservative co-host Hasselbeck is following Barbara Walters and Joy Behar out of the ABC daytime talk show.
She will join Steve Doocy and Brian Kilmeade on the Fox couch in mid-September.
FOX News Chairman & CEO Roger Ailes announced, "Elisabeth's warm and engaging personality made her a star on "The View". She has proven to be an excellent conversationalist and I am certain she will make a great addition to our already successful morning franchise."
Hasselbeck added, "I have been a long-time fan of "Fox & Friends" and am excited to be joining their team in September."
Hasselbeck is taking Gretchen Carlson's place.