Austin police have released surveillance images of the suspect in the death of gay resident David Villarreal. Villarreal, 36, was found dead in his downtown condo on Monday with signs of trauma to his body after meeting the suspect at a local gay club over the weekend.
The Austin American-Statesman reports: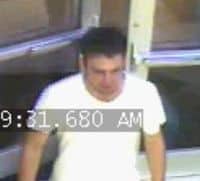 The images show Villarreal and a man in his 20s to 30s (pictured right) entering the condo tower at 360 Nueces Street sometime early Saturday morning, a police official said.
Police believe the victim and suspect met Friday night at the nearby downtown club Oilcan Harry's and made their way back to the tower early Saturday. The suspect was then seen leaving the towers about an hour later.
"I have a strong feeling we'll catch this guy," said Sgt. Brian Miller.
Investigators believe Villarreal may have been dead two days before a friend called police expressing concern.
Police declined to elaborate on Villarreal's cause of death, or other details in the case.
Watch a news report on the developing case, AFTER THE JUMP…