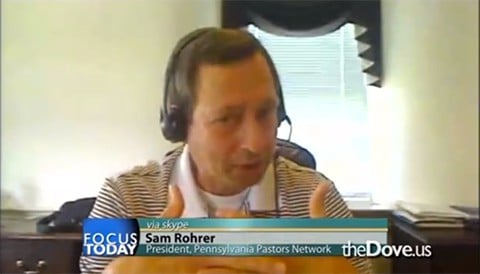 In response to Pennsylvania Attorney General Kathleen Kane announcing she will not defend the state's ban on same-sex marriage on the grounds that it is unconstitutional and discriminatory, The Pennsylvania Pastor's Network held a press conference today calling upon Kane to reconsider her decision. You'll recall this is not Kane's first run-in with anti-gay clergy since she made her announcement not to defend the ban. The Pittsburgh Post-Gazette reports on some of the remarks made at the state Capitol:
"The issue is one of defending heterosexual marriage," said Sam Rohrer, president of the pastors network. Mr. Rohrer is a former state representative and 2010 
Republican gubernatorial candidate
 before losing in the primary to now- Gov. Tom Corbett.
Mr. Rohrer added, "We see a moral imperative for heterosexual marriage due to the revealed truth of God based on eternal law." 
"In what universe do you think destroying the family can bless our nation?" said Pastor Dale Armstrong.
Speaking yesterday to an online Christian talk-show about what he views as Kane's "dereliction of duty," Rohrer added:
"By saying that she couldn't ethically defend the law means, very clearly, in our opinion, that it is a direct attack on the integrity of the family because marriage between a man and a woman is basically the essence of what constitutes a family."
The lawsuit to overturn the 1996 ban, brought by the ACLU, comes in the wake of the recent SCOTUS decisions effectively overturning Prop. 8 and the majority of DOMA.
Kane has said Governor Tom Corbett can defend the law if he chooses. Corbett has yet to indicate whether he will take up the mantle of the ban's defense, though some speculate he will have to defend the ban to keep his conservative base should he decide to run for reelection in 2014.
Watch a clip of Rohrer discussing Kane's refusal to defend the law (starting at about the 2:20 mark) AFTER THE JUMP…