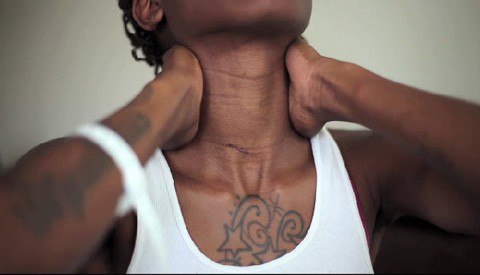 A woman and her girlfriend were attacked by a group of as many as 10 men in the South Austin neighborhood on Chicago's west side. The attack began after a man was harassing the couple, the Chicago Tribune reports:
The woman said she did her best to ignore him but he kept following. Her girlfriend tried to reason with the man, asking him to leave the couple alone, the woman said.
But then a second man came up, cursing both of the women, and the first man took a swing and punched the woman, she said. The couple said they fought back and other men quickly joined in, dragging the women apart.
The couple struggled to get back together, pressed against a car as the beating continued and no one came by to help, the woman said. "I didn't think we were going to make it out," she said.
Finally, one of the men said the police were coming. The attackers, laughing, fled in one direction and the women went the other way. Both women had lost their shoes in the scramble, and someone had ripped one of the victim's shirt off. The men stole their phones and cash.
The women were attended to by parademics after one of them was beaten unconscious. One man is being held on $1 million bail, charged with two counts of felony hate crime and two counts of felony robbery. The other suspects are still at large.
Watch one of the women, who says she has left the neighborhood, describe the ordeal (warning: autoplay), AFTER THE JUMP…