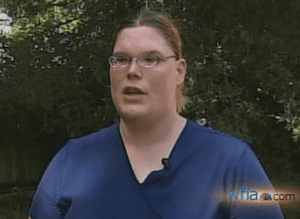 Alex Wilson is a trans woman studying to become a nurse, and who is currently taking classes at Pinellas Technical Education Center in Clearwater, FL. All that could potentially change, however, should she choose to use the restroom located in the same building as her classroom. Instead, she must travel to the administration building, and use a one-person restroom in what she calls a "a closet". If not, the school has threatened to press charges and to throw her out of the program. 
Previously, Wilson had chosen to use the women's restroom closest to her classroom. That unfortunately changed when another student took it upon herself to complain to administrators. She was subsequently pulled out of class and told that "if I continue to use the female restroom that I would have charges pressed against me. And that because of that I would be removed from the program as a nurse." When asked to describe her new "private" restroom, Wilson told WFLA News Channel 8, "It's a small restroom in, what looks like a storage part of the administration building. There's some cabinets, cleaning supplies."
Melanie Marquez Parra, a spokeswoman from Pinellas schools has told the press that they are looking into the issue to better understand exactly what took place and whether school officials could have handles the situation differently. 
"In a scenario such as the one you're describing , a person will be offered access to a private restroom. And that's for the individual's privacy and for the privacy of other students." 
ThinkProgress noted that, had the school simply offered the private restroom as an alternative, rather than issue an ultimatum, such action "would actually be commendable." They went on to explain that "there are some trans and gender nonconforming people who feel safest when they can access a private single-use facility." It is unclear as to which restroom Wilson would prefer to use, if given the choice. It is also uncelar exactly how her presence in the women's restroom could potentially impact the privacy of other students. 
Unfortunately, Equality Florida notes, there is no statewide statute that protects trans people like Wilson from this sort of discrimination.