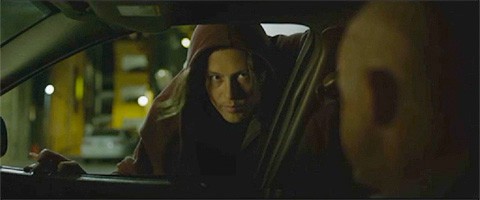 Actor Cory Monteith died of an overdose of heroin and alcohol, according to the British Columbia coroner's office, the AP reports:
The British Columbia coroner's office says in a statement Tuesday that "there is no evidence to suggest Mr. Monteith's death was anything other than a most tragic accident."
Monteith was found dead in a Vancouver hotel room over the weekend.
Since his death, details have emerged about his last film role playing a street hustler addicted to drugs in the yet-to-be-released, McKanick.  The film's director, Josh C. Waller, spoke to The LA Times about Monteith's desire to delve into his troubled past for the role:
"In my mind, I was envisioning a teeny little drug guy [for the role], but Cory Monteith is this tall, strapping man," Waller said in an interview on Sunday, hours after the actor was found dead in a Vancouver hotel room. "But when I met with him, he wanted to do it so badly. He was very vocal about his past, and said he wanted to tap into things from his youth that he hadn't been able to use as an actor yet."
Though the film has yet to find distribution, Waller hopes that people will get to see Monteith in a role that he took pride in:
"It's tricky, because you know there's a group of people that want to see the movie because it's his last film — but by no means does anybody want to exploit the tragedy…I want people to see the movie, because Cory deserves that. People would ultimately see that he had a lot more to offer artistically, and it's a shame that this happened because now he can't explore that."
Watch a clip, courtesy of Yahoo Movies, of Monteith in his last role in McKanick AFTER THE JUMP…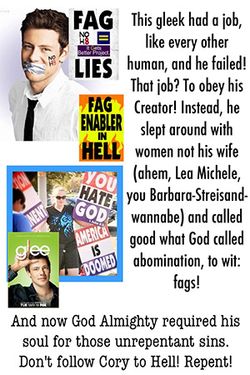 Bravo has announced it will re-air the episode of Inside The Actors Studio that features Monteith among the other cast members of Glee, The Huffington Post reports. Host James Lipton recalled his memories of co-starring on Glee and interviewing Monteth:
"Lipton also shared Monteith's surprisingly thoughtful response to his question, 'If heaven exists, what would you like to hear God say when you arrive at the Pearly Gates?' According to Lipton, 'Cory's God said, 'Uh, sorry I haven't been around. There's a good explanation.' Lipton added, 'I certainly hope there is. We needed Cory's gifts.'"
Never known to miss an opportunity for hate-mongering, Westboro Baptist Church has announced that it will picket Monteith's funeral because Glee features gay characters.
According to GossipCop, upon hearing of Monteith's death, the group declared, "PRAISE GOD for killing Cory Monteith — a wicked fag-enabler before the LORD!" They later tweeted, "Westboro Baptist Church is GLEE-ful over God's righteous judgment to end @CoryMonteith's life! Funeral picket soon!" Perhaps most appalling was Westboro's tweet to Monteith's girlfriend and co-star, Lea Michele: "Will @msleamichele kill herself as well? Then the wedding can go on as planned IN HELL! — invites for all their fans!" Westboro also posted a "eulogy" to Monteith (pictured at right).
Watch a clip, courtesy of Yahoo Movies, of Monteith in his last role in McKanick AFTER THE JUMP…