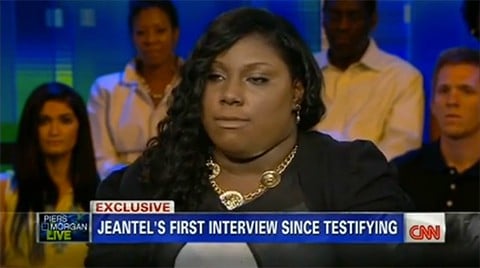 In her first interview since George Zimmerman was acquitted on all counts in the murder of Trayvon Martin, Martin's friend, Rachel Jeantel, who was thrust into the eye of a media storm after she gave testimony about the phone call she had with Martin moments before he was shot and who just yesterday was labeled "not credible" by the mysterious Juror B37, told CNN's Piers Morgan that she and Martin feared that Zimmerman was a "rapist" and was sexually motivated in his pursuit of Martin. Mediaite reports:
"He was 'freaked out' about [Zimmerman pursuing him], she said, especially after she had suggested to the late teenager that Zimmerman 'might be a rapist.'
She explained that because Martin was not a homosexual, he was troubled by the actions of Zimmerman: 'For every boy or every man who's not that kind of way,' she said, 'seeing a grown man following them, would they be creeped out?'
Jeantel continued: 'You have to take it as a parent, when you tell your child, you see a grown person following you, run away, and all that. You going to tell your child stand there? If you tell your child stand there, then you're going to see your child on the news for missing person.'"
Watch a clip of Morgan's lengthy interview that highlights the sexuality question AFTER THE JUMP…